Hurricane Ian's Worst, Brings Out the Best
Hurricane Ian made landfall near Fort Meyers, Florida on September 28, 2022, as a category 4 hurricane. It unleashed violent winds of 150 mph. Ian caused widespread devastation, flooding and resulted in $50 - $65 billion in damage. It has also been blamed for more than 140 deaths, making Ian the deadliest hurricane to strike Florida since 1935.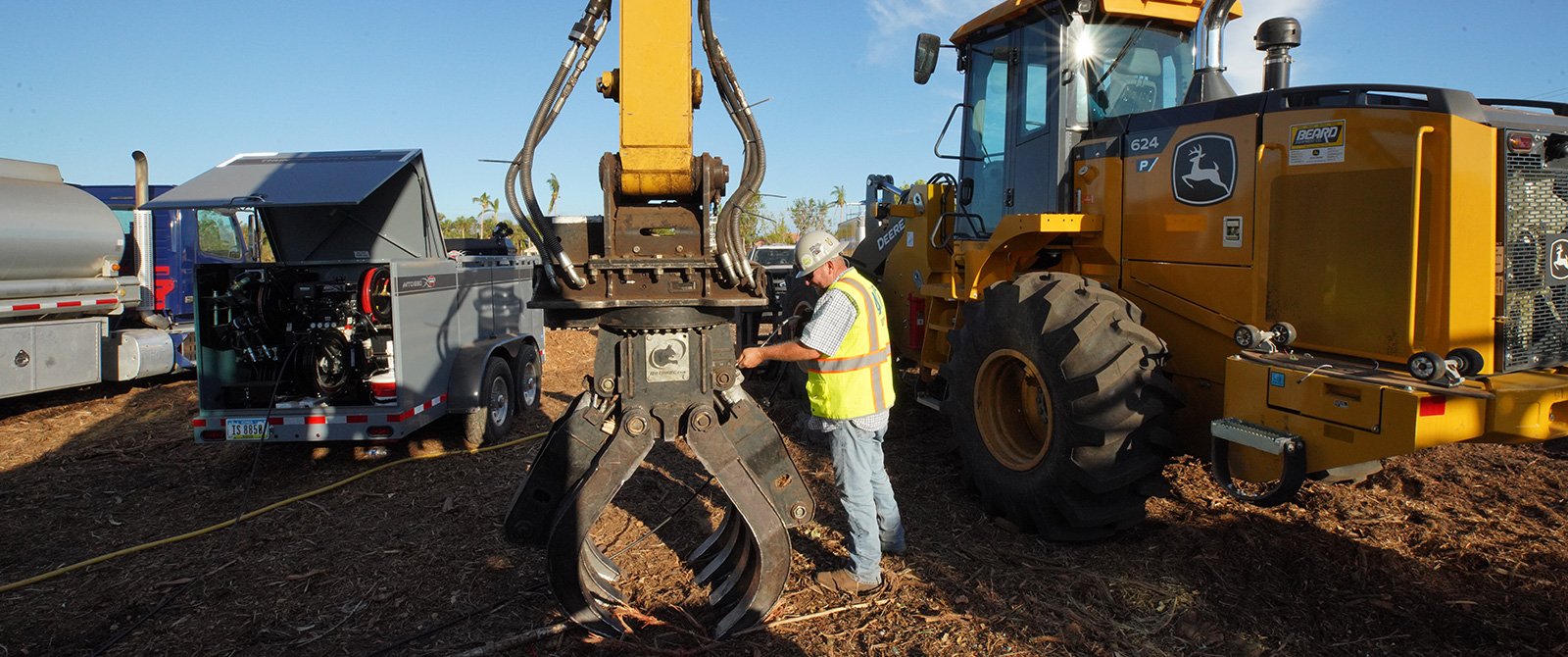 In the wake of every hurricane remains the strength and resolve of the human spirit. There are no better examples of this determination than from President and CEO Lyman Ramsay and the recovery team of Gulf Services from Theodore, Alabama. They have been in business since 1984 and have a history of swift response — having helped with many hurricane recovery efforts.
Of Gulf Services and sister company CrowderGulf, Ramsay says "We have a reputation for making things happen fast that goes back 30 years plus. When these events occur, we have a playbook, so to speak, to mobilize rapidly and begin the recovery as rapid as possible. So, the group of people that we rely on, they have experience in this business, they have the proper equipment, and they know the urgency that is required and the safety that is required to do this task properly."
However, it requires a great deal of logistics to effectively respond and remove debris after anything comparable to Ian's level of devastation. To put things in perspective, Gulf Services had been managing debris at its site in the Lee County area of Florida for roughly 30 days as of early November 2022, and there was a great deal more to do when it came to handling vegetative and construction/demolition debris.
"We've collected and reduced close to 2 million cubic yards so far as part of this response," says Lyman Ramsay.
Overcoming an Overwhelming Obstacle
Not only does it require a solid plan to clean up after a hurricane, but it also takes a whole lot of serious equipment. "The biggest challenges for us are primarily the logistics of moving that much equipment and that many people in a short amount of time. People are appreciative to see us here doing what we're doing, and that's very important to us."
Another big challenge they faced in the past for productivity was downtime. It was especially difficult relying on only a few specific fuel and lubrication trucks to keep the entire fleet running at peak performance. It was there the recovery teams ran into trouble.
Ramsay says, "Downtime is just not an option for us, and we have to put every tool in place to prevent downtime. We were having to wait too long on the guy with the HAZMAT to move the fuel around. Or the truck that we were depending on that day to do the PM work was broken down on the side of the road. That's when I said, there's a better way."
Enter the Thunder Creek MTO 690
The better way he discovered was by adding Thunder Creek MTO 690s to his fleet of dozers, excavators, loaders and grinders. "What we like about the Thunder Creek products is we can take these units, we can fill them with fuel and other necessary lubricants needed for the operation. We're not tied to a certain class of driver with a CDL. Also, as opposed to one mobile unit that's supporting multiple locations, we can drop one of these at each individual location and support that location's needs. That's a big plus for us."
The Thunder Creek MTO 690 is a multi-tank oil trailer that can provide bulk diesel, oil, reclaim, coolant, grease and DEF. It can carry up to 690 gallons of fluid combinations tailored to your jobsite needs. The MTO utilizes multiple tanks isolated through a manifold. The result is a trailer that legally mitigates the need for the driver to carry a HAZMAT endorsement. In many cases, a CDL may not even be required. The Multi-Tank Oil Trailer is designed to be the most flexible and cost-effective fluid transport solution for disaster response organizations. It is priced at a fraction of the cost of a fuel and lube truck and comes in three capacities up to 920 gallons.
When asked about the quality and durability of his Thunder Creek MTO 690s, Lyman Ramsay shared, "We have some units that are over two years old at this point that have made it through three activations and traveled many miles in between. They've held up phenomenally. We've not seen any issues regarding stress or fatigue with any components of these trailers."
At the end of the day, disaster recovery is about helping people through an incredibly frightening and challenging event. No one involved in the response has the luxury of extra time. Every moment is critical.
"I really just can't stress enough how important that is, just having what you need to be able to mobilize very quickly. I've been in this business basically my entire life." Ramsay says, "We've been involved in many responses … and you never grow numb to these events. Once you slow down a little bit and you start seeing the human side of this with the citizens and seeing the devastation and the suffering that they're going through — just giving them a little hope is incredible."